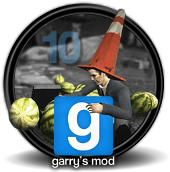 The best Garry's Mod Server Hosting Plans
Level 1
€5
8 Players
4Ghz - 5Ghz CPU
NVMe SSD Storage
Impenetrable DDoS Protection
Around the clock support

Level 2
€10
16 Players
4Ghz - 5Ghz CPU
NVMe SSD Storage
Impenetrable DDoS Protection
Around the clock support

Level 3
€15
24 Players
4Ghz - 5Ghz CPU
NVMe SSD Storage
Impenetrable DDoS Protection
Around the clock support

Level 4
€20
32 Players
4Ghz - 5Ghz CPU
NVMe SSD Storage
Impenetrable DDoS Protection
Around the clock support

Level 5
€40
64 Players
4Ghz - 5Ghz CPU
NVMe SSD Storage
Impenetrable DDoS Protection
Around the clock support

Level 6
€80
128 Players
4Ghz - 5Ghz CPU
NVMe SSD Storage
Impenetrable DDoS Protection
Around the clock priority support

Where applicable, all prices include VAT.
About Garry's Mod Server Hosting

Garry's Mod is a sandbox physics game in which the player can create any structure or contraption imaginable. The modding community have created a vast array of gamemodes, maps, plugins and extensions which add a great amount of variance to the GMod experience and ensures you will never run out of things to do. Evolution Host Garry's Mod servers are equipped with the latest Intel & AMD CPUs, high frequency DDR4 RAM and high performance enterprise grade NVMe SSDs to ensure that your G-Mod experience is limited by only your imagination and not your hosting provider. This ensures that you consistently receive the high reliability and performance required to support the innovative potential of your Garry's Mod server.

Hosting a Garry's Mod server is fun, no doubt about it. This is why you need the best Garry's Mod host you can get, to ensure your enjoyment is not limited by mediocre hosting environments.

Begin to innovate, create and destroy right now with an Evolution Host Garry's Mod server.

Why choose Evolution Host for hosting my GMod server?

Here at Evo, we've been in the hosting industry since 2013. We've been hosting Garry's Mod since 2015. Our experience and dedication to providing the best GMod hosting experience possible is undeniable.

Our team of experts have crafted an exceptional environment to host your Garry's Mod server. Combining the most powerful hardware with our industry leading DDoS protection, coupled with our team's vast experience ensures a best in class GMod server hosting opportunity for you and your community.

Don't take our word for it, read what hundreds of our clients have had to say about us and check out some of the awards that we've received for our excellence within the hosting industry.

Ready to get started?
Get GMod Hosting Now